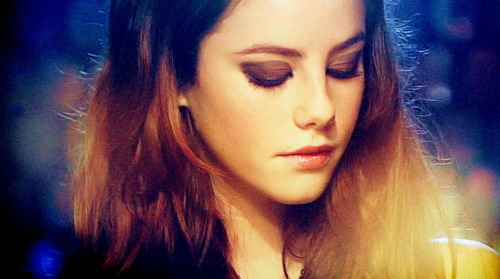 Ivory "Ivy" Rodriguez
15
Actress
Appearance
Hair Color:
Dark Brown
Eye Color:
Black with purple flecks at the sides
Hair Texture:
Messy curls and waves
Body Type:
Lean and toned
Height:
Average
Other:
None
Personality
Reckless, spunky and down right hard to hate. She's a chick who's got a messed up personality and still manages to charm everyone with charisma. She'll tell you what she really feels, she's blunt and she's hard headed. Ivy's the type of girl who doesn't back down from what she believes in.
Ivy tends to get temperamental whens he doesn't get her way, but she won't show it until the last minute when she has cooked up a scheme that will make you regret everything you did. But despite all that, she's actually very vulnerable. He strong font is just so she could protect herself from getting hurt.
Likes:
Teasing, Getting into trouble, Acting, Lollipops and she's got a secret thing for cute stuff even though she pretends she doesn't.
Dislikes:
Obnoxious people, boredom, smoking, being confused and the dark
Strengths:
She's strong willed, passionate and she brutally honest
Weaknesses:
Reckless, doesn't think before she acts, trust issues
History
Ivy was born in New York City with three other older sisters. She was always being compared too the three of them since they graduated top of their class, beautiful and over all perfect. she was the black sheep among the four of them and throughout most of her young life, she's been brought in and out of detention for skipping classes even though her grades are as high as anyone.
She always had a way with manipulating people using her inborn acting skills though she never lies about anything. She just twists words around to her advantage and only a select few can actually see through her whole act.
At the age of fourteen, she got into a car accident because she took her father's Bugatti for a spin just for the heck of it. She ended up crashing into a fire extinguisher and she knocked down two garbage cans in the process. She didn't see this as anything serious but people seemed to ever react on the matter. she was sent to Stellar Academy afterwards because her parents thought she wouldn't get into any more trouble in that well known institution. They were dead wrong...as always.
Family
Mother:
Jenna Rodriguez
Father:
Mark Rodriguez
Siblings:
Kara, Bea and Sage Rodriguez
Other:
-
Relationships
Friends:
-
Boyfriend/Girlfriend:
-
Enemies:
-